OUR HISTORY
Specialty Coffee is a classification of the quality score of the coffee bean itself. It must also be traceable and fair trade. Specialty Coffee is also a product with enormous potential to strengthen our communities. Our goal is to work with coffee to establish positive connections between each other and our environment. Coffee is the Corde that connects us.
The first Corde Coffee store opened its doors on January 14, 2020 in the heart of Eaux-Vives, a space partly shared with TomBeers, our dear neighbor. Despite opening just before the start of the pandemic and suffering from months of closures and service restrictions, we continue to grow. We have a strong and close-knit team that work together to offer the best coffee and vegetarian cakes and food. In January 2023, we opened our second café in Coutance, this time fully equipped with a separate roastery, in the heart of Geneva, located near Bel-Air. All our pastries and drinks are homemade, as all our coffee is roasted with precision, 100% house made.
Discover the different varieties of precisely roasted specialty coffee
We offer freshly roasted coffee in bulk or prepacked bags. Come visit us to buy coffee in a compostable bag or in your own jar, or order online to have it delivered.
We would like to accompany your discovery of the different aromas and flavors in your cup.. fruity, gourmet, spicy, chocolate, and more. We want to share our passion for coffee and educate customers about the countless diversities of specialty coffee from different regions of the world, roasted here in Geneva.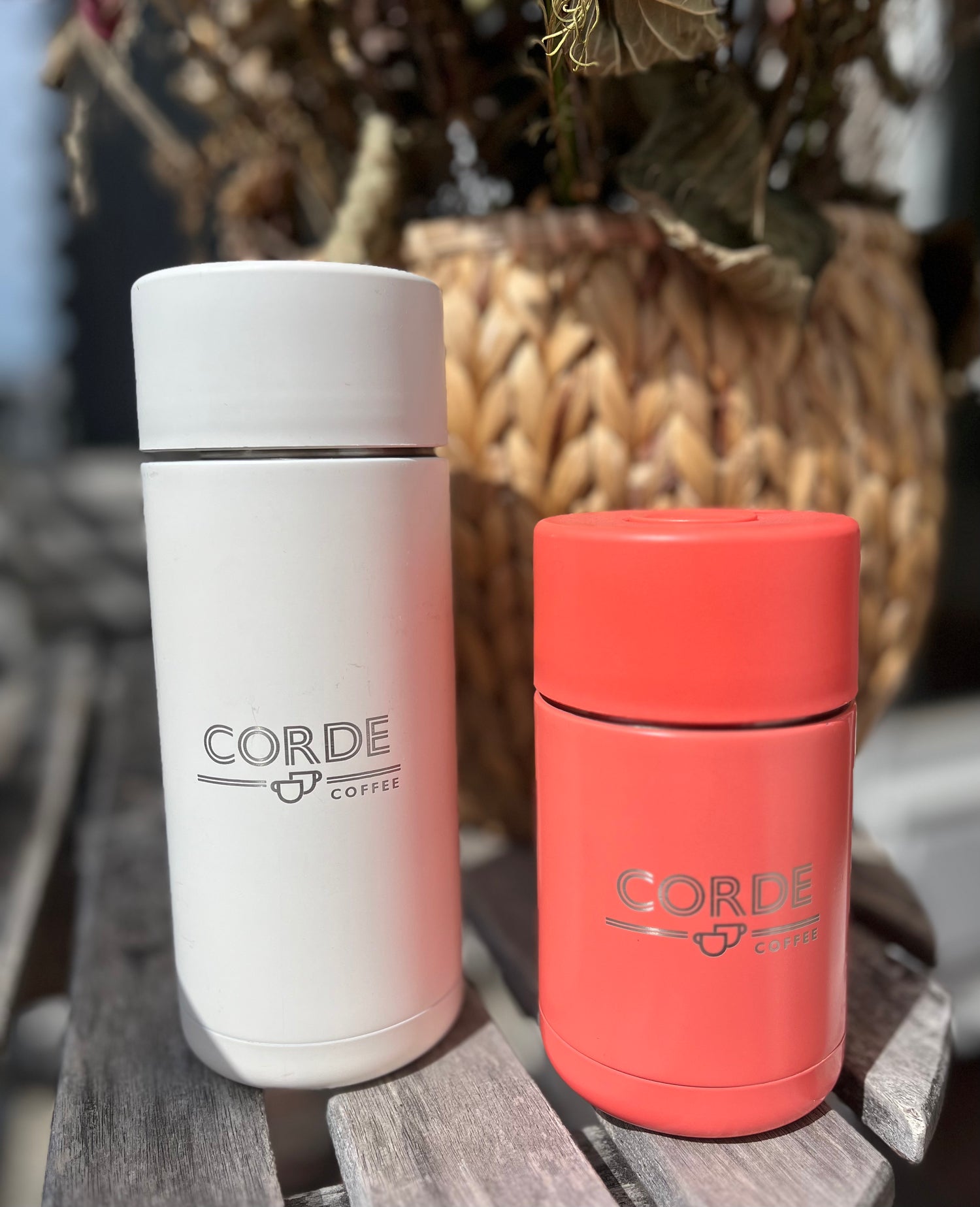 Our commitment to the future
Corde Coffee is committed to minimizing our carbon footprint and inspiring everyone to do the same with minimal effort.
​Our packaging is exclusively made from sustainable or reusable materials. In addition, all our food and drinks come from quality, environmentally friendly local suppliers following a fair trade approach along the food chain.
TEAM
Carlina

Carlina, the creator and founder of Corde Coffee, is also the master roaster of each coffee we serve. She is also creator of our cake recipes. Her passion for coffee led her to create a premium brand, where she uses her roasting and cooking skills to deliver exquisite flavors to all coffee lovers. Her dedication to craftsmanship and quality has made Corde Coffee an essential reference in the world of coffee

Anne-Katell

Anne-Katell is our energetic manager at Corde Coffee. With her leadership, she guides our team towards success. An expert in management, she ensures a collaborative working atmosphere where everyone feels valued and motivated. His dedication to excellence is the key to our continued success at Corde Coffee.

Elisabetta

Elisabetta, our talented Head barista at Corde Coffee, delights our customers with her drinks and her love for coffee. His passion for coffee and commitment to quality make him a source of inspiration for our team. She directs our baristas to ensure best practices in coffee extraction and preparation.

David

David, our Business Developer and passionate Barista, creates strong and personal partnerships for Corde Coffee. His natural charisma and passion for sustainable and fair trade coffee is palpable. His dedication to quality in terms of products and services to our customers in our shops and especially elsewhere, are tremendous assets for our team.

Julie

Julie, our talented and creative community manager at Corde Coffee, runs our social platforms with enthusiasm and passion. Through her creative flair, she creates an engaged community around our brand, captivating our customers with inspiring and interactive content. It was she who created the beautiful fresco of Corde Coutance!

The whole team

Each of our team members and baristas plays an important role in creating the Corde Coffee community. We love serving you and getting to know you. Come and visit us !